On March 17, 2021 the Council of Ministers of the Burundi Government gave formal and final approval for Songa Energy's two hydropower projects in Burundi. The minutes of the Council meeting state:
"In Burundi, improving the supply and access to energy remains one of the Government's priorities.
The participation of the private sector in the development of the energy sector constitutes a means allowing to substantially and durably improve the Burundian population's access to electricity.
It is in this context that the company Songa Energy Burundi signed with the Ministry of Hydraulics, Energy and Mines on 8/17/2015 a Memorandum of Understanding for the completion of energy production studies on Mulembwe and Ruvyironza rivers, with capacities of 9 MW and 1.65 MW respectively.
The Council of Ministers had analyzed this file and noted that it required a technical re-analysis to ensure that the structure was adequate, and that State's contribution was correctly valued. The specific requests were to: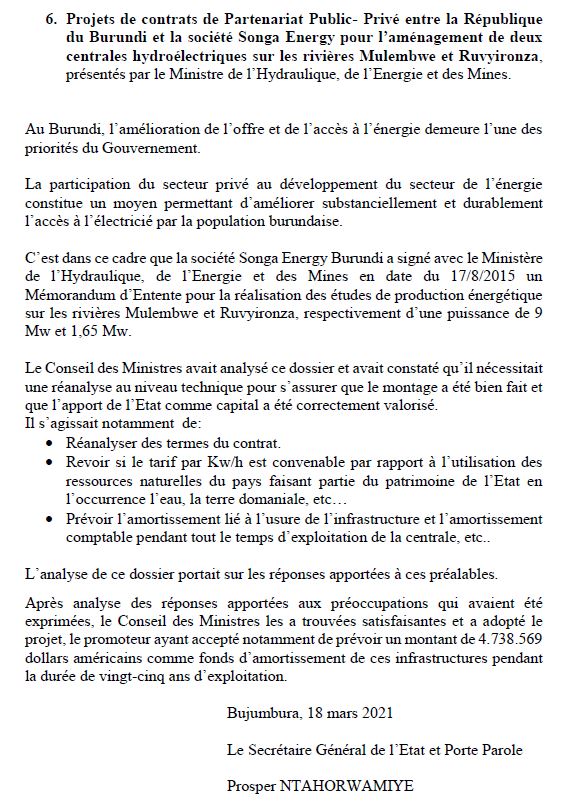 Re-analyze the terms of the contract.
Review the tariff per KW/h and ensure it was appropriate in relation to the use of the country's natural resources, part of the State's heritage, in this case water, State land, etc.
Provide for depreciation linked to wear and tear of the infrastructure and accounting depreciation during the entire operating time of the plant, etc.
The analysis of this dossier focused on the responses to these prerequisites.
After analyzing the responses to the concerns that had been expressed, the Council of Ministers has found them satisfactory and has adopted the project, the promoter having agreed in particular to provide an amount of US $4,738,569 as a depreciation fund for these infrastructures during the twenty-five-year operation period."